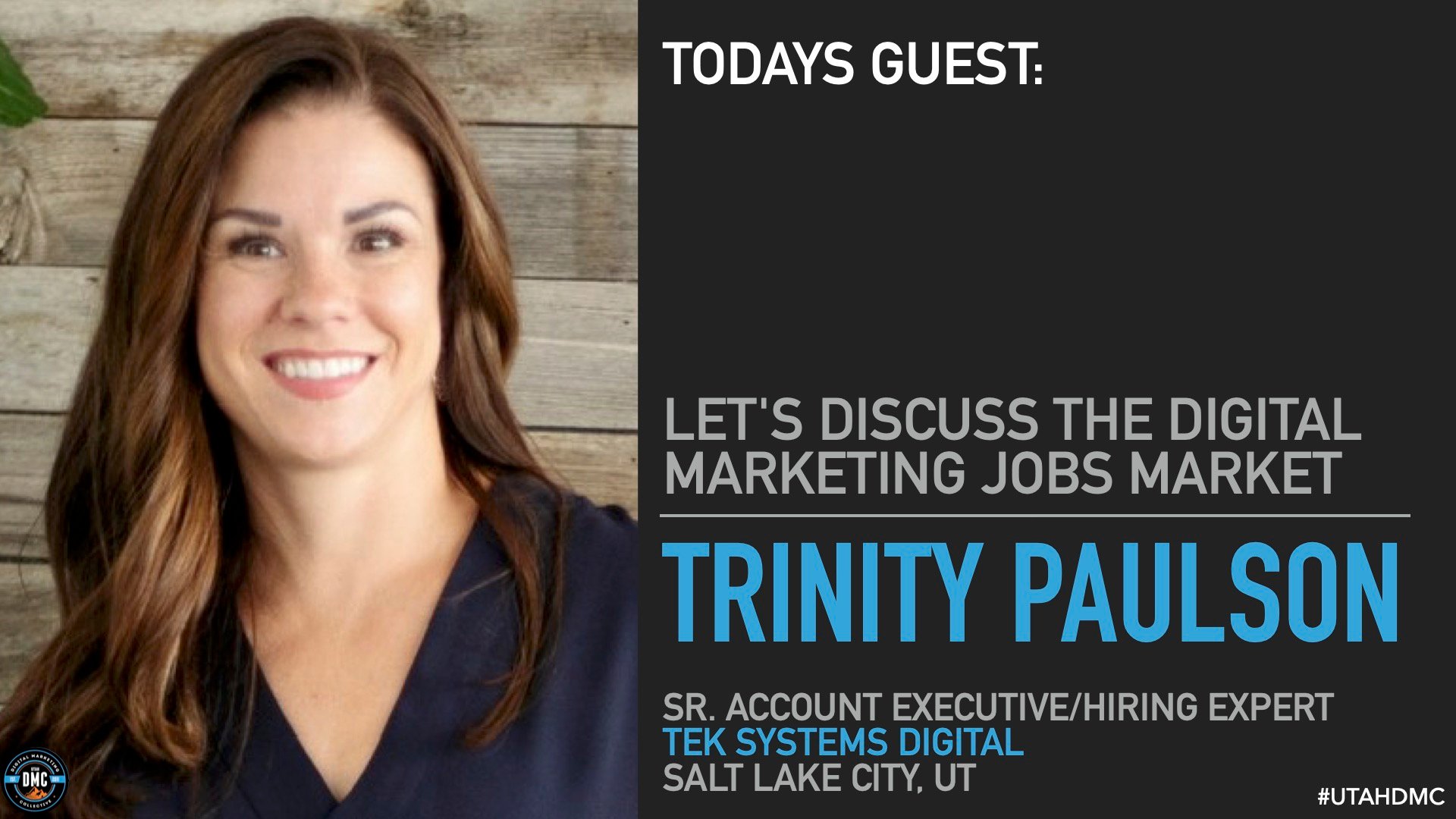 Our Guest Presenter:
Trinity Paulson
On September 8, 2021, Utah DMC's live online event featured Trinity Paulson, then Sr. Account Executive/Hiring Expert, and now (at the time of posting) a Talent Acquisition Specialist, from TEKsystems Digital.
This was Trinity's first time presenting for the Utah Digital Marketing Collective, and we were thrilled to have her here to present: Let's Discuss the Digital Jobs Market
Doc and AJ had a blast on this live broadcast with Trinity, and now we are thrilled to share the opportunity for you to learn from her insights via this recap and event replay. (Note: This post is a high-level recap. At the end of this post you can watch the entire replay of the event with audience Q&A)
Let's Get Started...
About Trinity Paulson
Trinity specializes in hiring for digital and creative services. Trinity has held several leadership roles within TEKsystems Government vertical and she had the opportunity to create and build the TEKsystems Digital division in Utah in 2016.
Trinity brings over 16 years of experience providing project-based services and staff augmentation in the Utah market, and an in-depth perspective of the current state of hiring.
Demand For Digital Marketing Talent Far Exceeds Supply
Trinity started her talk with this statement: "The demand for talent is exceeding the supply of talent in significant amounts."
There are several reasons demand exceeds supply:
A lot of projects that were put on pause in 2020 need to be completed now.
A lot of people are working from home.
A lot of people are working remotely.
A lot of people want or need a flexible schedule.
Remote work means companies outside Utah are recruiting people with wages higher than what is

prevailing

in Utah's job market.
And the remote work trend is rising, with 3.5 times the number of remote job openings in August 2022, compared to August of 2 years ago.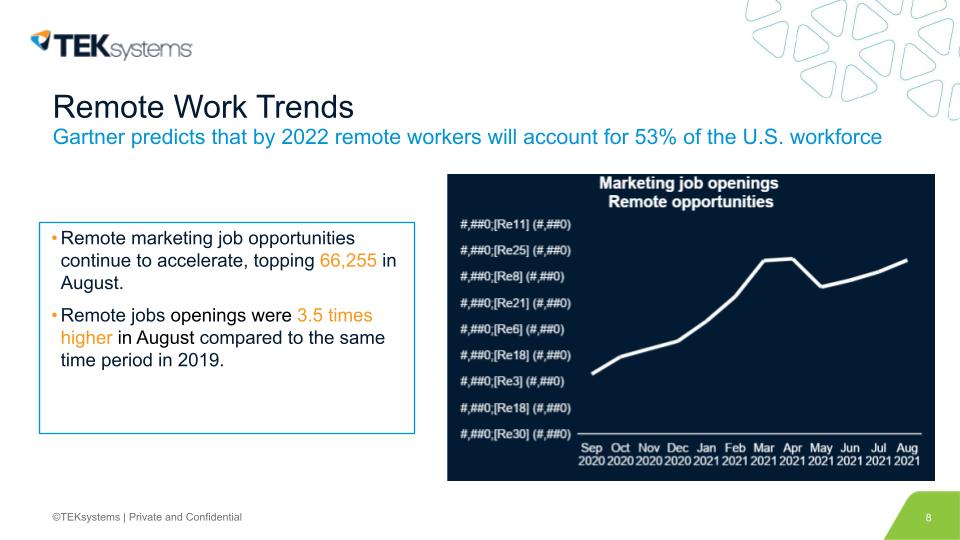 What You Can Do to Attract Digital Talent
Trinity said all these factors make the market for talent more competitive than she's seen in almost 17 years of working in hiring. This means candidates may get 5, 6, 7 offers in a day, and companies are getting more creative in their offers.
Be Aware of What Candidates Want
Candidates have a lot of leverage in searching for a good work environment, and companies can benefit by understanding what workers want and addressing those wants. For example, some people want to work for a small company where their voice is heard. Reassure them that their voice matters.
For another example, some companies have a periodic mental health day where the whole company shuts down, so no one feels like they have to check their email. And some companies offer free counseling, either remotely or in person.
Which was the perfect opportunity for Doc to mention an upcoming mental health presentation. You can view that on-demand here.
Specialize
If there's an area you really love, get specialized, because that's where the market's going. Your workers also want to specialize and improve their skills, so Trinity scrolled through a TEKsystems article, 5 Ways to Create a Workforce Upskilling Program (also available under the Attachments tab in the presentation below, with other articles).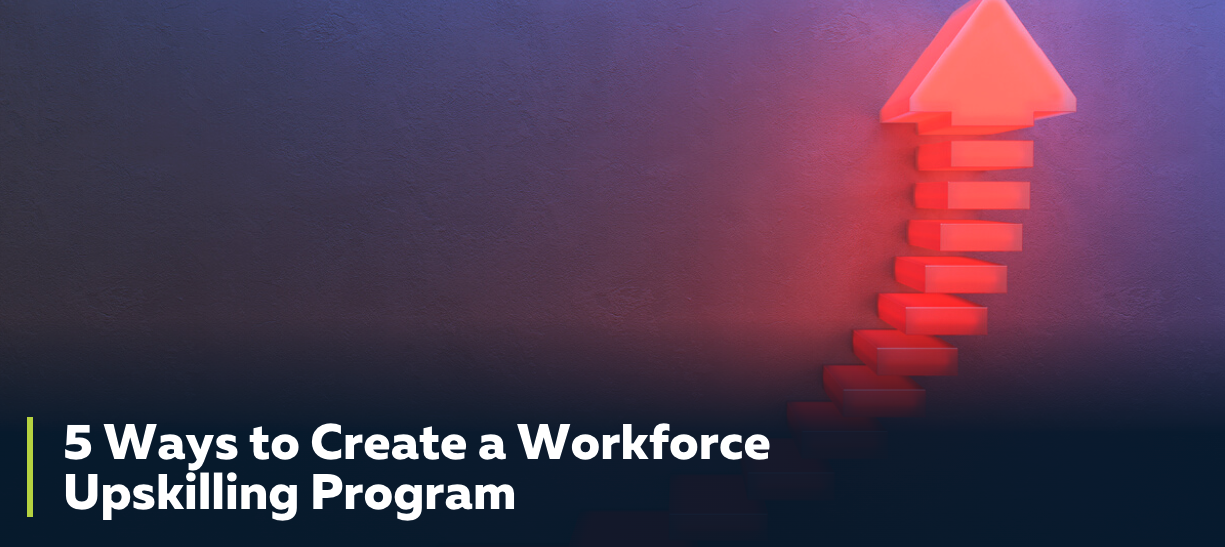 This is a fantastic article, and Trinity briefly explained the following. Keep in mind, the article is talking about strategies you can use to build a pipeline of entry-level talent.
Establish the reason for a new talent workforce upskilling program.
Understand your hiring strategy.
Integrate recruiting, training, and technical expertise into your program planning.
Support new hires while on the job.
Consider developing a custom program with an external partner to get you from job-ready to full productivity.
For a deeper dive, be sure to go read the article linked above.
What Else You Can Do to Attract Digital Talent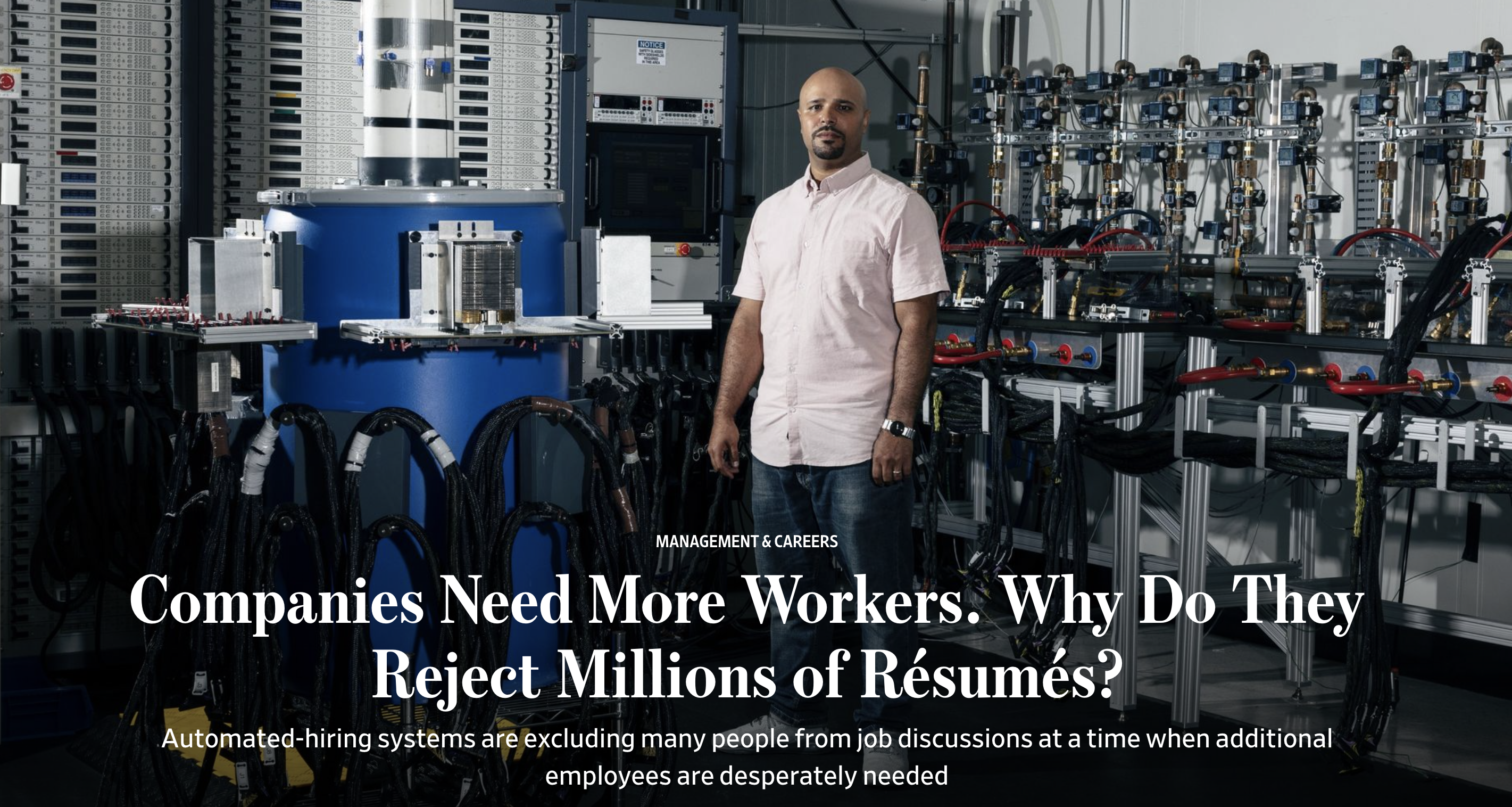 Trinity recommended looking at an article from the Sept. 4, 2021, Wall Street Journal with the provocative title, "Companies Need More Workers. Why Do They Reject Millions of Résumés?" The answer lies in how applicant tracking systems are looking for very specific keywords. If the keywords are not in the resume, the hiring manager will not see it, and will not see that the applicant meets all the qualifications.
But artificial intelligence is not the only thing that screens out a lot of qualified applicants. "You are losing out on a large population of talent if your job descriptions are too detailed," since a vast majority of women won't apply for a job if they don't meet 95 percent of the qualifications. But the qualifications they don't meet may be the least important. A less detailed job description will attract more qualified applicants.
Show Me the Money?
Doc returned to the question of companies outside of Utah recruiting remote workers at higher than the prevailing wage in Utah. Are we also seeing companies in San Francisco or Boston paying Utah or Idaho workers at the so-called "local rate"?
Unfortunately, Trinity said, some are, but the data is skewed. "I don't know where their figures are coming from. It's becoming a lot more expensive to work here."
Doc asked if she's seen a lot of ageism, with excuses like, "You're too experienced. We can't afford you."
Trinity said she hasn't. Instead, she sees companies welcoming diversity. But salaries aren't catching up for people with a lot of experience, so people may hear, "we can't afford your talent."
This raises the question of whether to post salary ranges in a job opening. Trinity said that can be tricky because people who are underpaid may not think their skills merit that high a salary. Or, workers don't want to waste their time going through 5 interviews if they're earning $120,000 and the job only pays $70,000.
The Q&A also addressed the flip side of the question, whether applications should ask for salary history and whether it's legal to do so. So, check out the on-demand replay to see what was said.
Note: Many questions in the Q&A asked about salary, and Utah DMC and TEKsystems will be sending out a co-branded survey about salary and happiness and other things in early 2022.
Streamline Your Interview Process
Most people don't apply for a job because the salary is posted, Trinity said. They apply because the job is interesting, or they like what they'd be doing.
And that brings up the interview process. Trinity emphasized the need to streamline interviews. "Several interviews each with several companies can be exhausting." Remember, they're interviewing you as much as you're interviewing them. The fewer the interviews (1 or 2), the easier it will be to hire someone.
Another thing to consider, doing away with is asking applicants to do a project for you. Applicants don't like projects. Not because they don't have the talent, but because it's unnecessary. Applicants can build up a portfolio, and companies can look at that to see evidence of the applicant's skill.
A Resume in the Hand Is Worth . . .
Doc asked, "Why don't we dispense with resumes, and use LinkedIn?"
That only works if companies use LinkedIn, Trinity replied. A lot of companies want a physical resume. You can do a resume on LinkedIn and then export it. The more detail you list, the more likely you are to come up in someone's search.
Conclusion
This was a terrific discussion about the digital marketing landscape! Trinity gave a lot of additional useful information, including this advice for job seekers: Get out in the community you want to be involved in, and start meeting people.
We did not hit on much of the job seeker side in this recap, so be sure to check out the on-demand replay, below, if you are interested.
---
Q&A + Replay
If you couldn't make this event live, you can see the replay below.
Throughout the presentation, there was an exchange of questions and answers, as well as a great Q&A session at the end where Trinity answered viewer-submitted questions, including the following:
What can someone expect to make for salary (range is perfect) as a Digital Marketing Specialist? And what should one expect for salary going from a specialist to a manager and then a director?

How do you feel about companies asking what your current salary is?

Is it legal to ask what you want to make?

Do you have a current salary range for a position with 1-2 years, 3-4 years, 5+ years?

What's the average days to hire for paid social/PPC marketing strategists?

How long should one expect to stay at a job in their career before they should make a move to increase in salary?

My company has a Demand Generation position we've been trying to fill for 6 months here in Utah. It's an entry level position and we have it listed as $72k+, are we even in the ballpark for Utah? We're getting applicants with experience helping their neighbor promote a grand opening or something, with less than 6 months experience.

Wow - 1 to 2 interviews?! That's awesome. We have a 4 interview process. Screening, skills assessment, compensation, and final interview. I could see whittling that down to 3, but how would I go to 1 interview?? I love that.
I have an opening for a Global Paid Search Manager, which is more of a senior position. It is for an in-house single brand position. My company doesn't allow me to share the possible salary range, but it is in a higher range. With that said, I have had the position open for 29 days and no one with any experience has applied.

Q1: What salary range does the market demand for this type of position?
Q2: How do I get people to apply?
And the last question, from AJ:
What can a candidate say when they legitimately sucked at their last job and got canned?
Lastly, don't forget to connect with Trinity on LinkedIn, and check out her website TEKsystems.
---
What Attendees Had To Say About Trinity's Presentation
⭐ ⭐ ⭐ ⭐ ⭐
The information Trinity shared was super helpful. Thank you for having this discussion.


⭐ ⭐ ⭐ ⭐ ⭐
Thanks so much, great information as well as entertaining!
---
Be sure to explore our blog for more event recaps, and be sure to check out our DMC Online Events page to see all of our past and future digital marketing online events.
Do you have something you'd like to present to the ever-growing DMC community? If so, we'd love to speak with you. Head on over to this page, and tell us more about you and your expertise.
---
Ready To Watch This Full Event On-Demand?